Photography by Renato Granieri.
A flamboyant bon vivant, restless rogue, and outspoken Communist, Chilean poet Pablo Neruda was, in the words of Colombian novelist Gabriel Garcia Marquez, "the greatest poet of the 20th century in any language."
Evoking praise and outrage in equal measure, he cast spells with passionate love poems, stirred pride with historical epics, unnerved high society with political manifestos, and raised smiles with his everyday odes to socks and snails.
Not everyone was a fan of Neruda the man, but his artistic brilliance is widely recognized; so much so that, in 1971, he was awarded the Nobel Prize in Literature.
Although work as a diplomat carried Neruda across the globe, his heart always lay with Chile and the Pacific Ocean, which he called "big, unruly and blue."
Neruda died in 1973, but his legacy in Chile lives on. Travellers passing through Santiago, Valparaiso, and Isla Negra, can visit his three eccentric homes, which now operate as museums, and explore the boisterous backstreets and surf-slapped coastlines that inspired his life's work.
La Chascona, Santiago
Chascona is loosely translated as "messy hair." This property is named after the untamed tresses of Matilde Urrutia, Neruda's mistress, muse, and, eventually, third wife, this house at the base of San Cristobal hill was built in 1953 and used for the couple's secret trysts.
The Captain's Bar, La Chascona, Santiago
An enthusiastic entertainer, Neruda needed no excuse to throw a party. To accommodate his frequent shindigs, the poet's three houses all have bars — though only Neruda was allowed behind The Captain's Bar's rippled, metal counter (built to mimic waves). Neruda preferred to serve drinks in coloured glassware because, according to him, they tasted better that way.
The Lighthouse Living Room, La Chascona, Santiago
Though he was awed and humbled by the ocean, Neruda considered himself a captain of the land, and filled his permanently docked ship with a cornucopia of foreign treasures. At the Lighthouse Living Room, visitors can take a look at trays and plates by Italian artist Fornasetti, a table liberated from a Parisian bistro, and — in the outdoor summer bar — a giant shoe once used as a cobbler's shop sign in Neruda's largely illiterate hometown of Temuco.
El Venezia Restaurant, Pio Nono 200, Santiago
Around the corner from La Chascona, in Santiago's bohemian Bellavista district, is one of Neruda's favourite restaurants. Here, pictures of gondolas hang alongside framed photos of Neruda himself, and football matches often blare from TV screens. The dark, wooden interior is best suited to a cozy, nostalgic dinner — although, cuisine-wise, the place is well past its culinary prime. Expect to pay around 6,000 pesos — or $9 USD — for a sandwich.
Mercado Central, Santiago
Conger eel, which Neruda described as "a giant eel of snowy flesh," was the poet's perfect comfort food. He even dedicated an ode to Caldillo de Congrio, a type of conger eel stew, claiming: "That in this dish you may find heaven." For a taste of paradise go to La Joya del Pacifico (open daily from 6 a.m.) in the wrought-iron fish market, where a bowl of the warming dish starts at 5,900 pesos (around $8.80 USD).
Valparaiso
Colourful tin-roofed houses cascade down 45 hills in this lovably scruffy port, which is about 90 minutes from Santiago. Valparaiso was a vital trading centre until the Panama Canal arrived in 1914. Zip skyward on the 100-year-old, clattering funicular, and step over stray dogs lounging on graffiti-daubed streets to reach the lower-class neighbourhood where Neruda chose to live.
La Sebastiana, Valparaiso
Inaugurated with a party in 1961, this ship-shape five-storey house claims the city's best sea view. True to Neruda's droll style, it's brimming with humour and oddities, like an embalmed Venezuelan flamingo that dangles from the ceiling.
Plaza de los Poetas
From La Sebastiana, a quick walk along Calle Ricardo de Ferrari leads to a raised square where local artists have collaborated on a project to honour Chile's literary greats. Pose for selfies with bronze statues of Neruda (wearing his characteristic flat cap) and his early mentor, Gabriela Mistral, who became the first Latin American woman to win the Nobel Prize in Literature in 1945.
Isla Negra
Perched on a rocky, wave-crashed headland, this house, which was completed in 1945, was Neruda's favourite. He wanted a place close to Cartagena, and originally lived here with his second wife, the "little ant," Delia del Carril. The house is a two-hour drive from Santiago; during high season, expect queues beginning at 10 a.m.
Grounds of Isla Negra
Like all of Neruda's houses, the design touches at Isla Negra are autobiographical, like a steam engine on the front lawn that is a nod to Neruda's father's work as a railway employee. An obsessive collector, Neruda amassed pipes, boats in bottles, exotic shells, and butterflies, all of which are on display inside.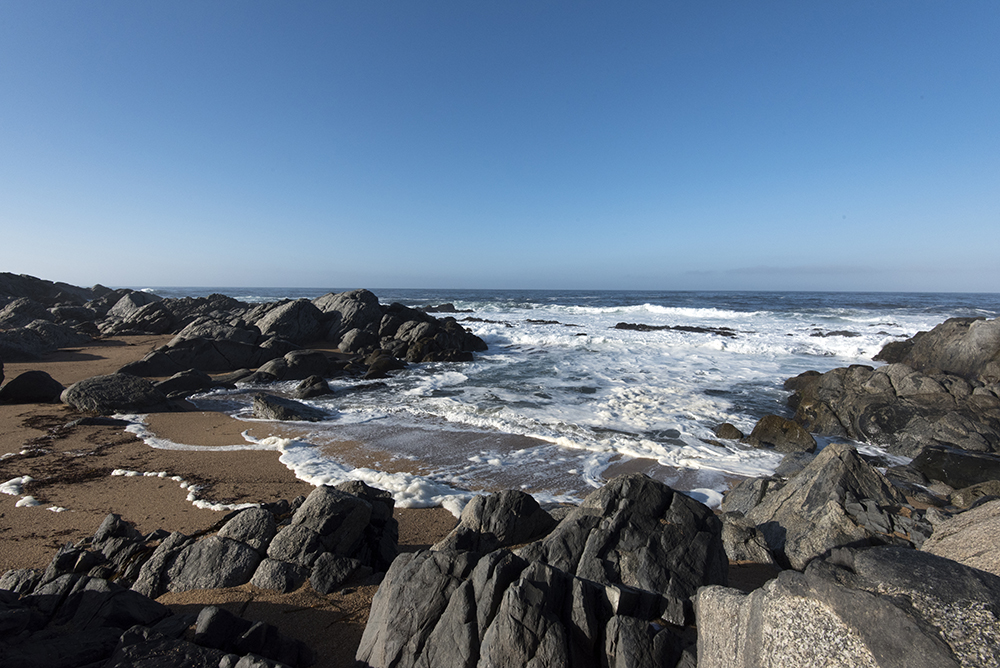 The Pacific Ocean, Isla Negra
"I need the sea because it teaches me," Neruda mused in The Sea. "Until I fall asleep, in some magnetic way I move in the university of the waves." Maritime references in Isla Negra include a ship's wheel used as a coffee table, a figurehead from the Maria Celeste, and a bedside telescope. Many of Neruda's great works (including Canto General) were composed in green ink on the desk in this house, which is formed from a shipwrecked piece of wood that was rescued from the ocean.
Pablo Neruda's Grave, Isla Negra
Neruda's death, in 1973, is shrouded in mystery — not least of all because it coincided with right-wing dictator Pinochet's coup d'état. In 2015, the Chilean government admitted foul play was "probable," although prostate cancer is still the official explanation. Pay respects to Neruda at his grave in the grounds of Isla Negra, where he's accompanied by his two great loves: Matilde, and the ocean.
All three of Neruda's houses open Tuesday to Sunday from 10 a.m.–6/7 p.m.; entry is 7,000 pesos (about $10.60 USD) with free audio guide.
---
Getting there
G Adventures runs a number of departures to Chile, including several treks to Machu Picchu. We're thrilled at the prospect of showing you this enchanting country as you've never seen it — check out our small group trips to Chile here.