Long referred to as a haven for backpackers, and not on the mainstream tourist map, Laos is home to a fairy-tale landscape of jagged limestone cliffs, dark, moody jungles and deep cavernous wonders.
Laos has something to offer all travellers; adventure seekers can increase their heart rates tubing through underground lagoons, or traversing the jungle on zip line, while those at one with nature can hike through pristine pockets of undisturbed jungle and foodies can move out a notch on their belts sampling some of the most exciting dishes in all of Asia. Add into the mix some of the warmest, kindest people possible to meet and you'll wonder why you didn't visit Laos sooner.
The best swimming pool you'll ever dip your toes in
Bright pools of turquoise water reflect the overhanging jungle canopy. Locals wade into the calm water's edge, as in the distance a giant waterfall delivers water downstream with a frothy violence that can't be ignored. The Kuang Si Waterfall in Luang Prabang is not only one of the most popular tourist destinations in Laos, but also one of the most spectacular swimming experiences in the world.
The azure pools at the base of the Kuang Si Waterfall are refreshingly cold in the middle of summer as a result of the overhanging jungle foliage, and also feature mini-falls of up to 5m (16 ft). Travellers looking to keep their feet dry won't be disappointed either, as there are trails that allow people to climb to the top of the waterfall to witness the cascading water from another perspective.
Southeast Asia's cult food destination
It is hard to put your finger on just why something achieves cult status. From The Rocky Horror Picture Show to The Catcher in the Rye, to anything by The Ramones; some things are worshipped to the extent that they can lead middle-aged businessmen to crowd outside a movie theatre at night in fishnet stockings, leather vests and enough eyeliner to make a passing goth think the application is excessive, just to attend a rerun of a movie made 40 years ago. Similarly, for foodies moving through Southeast Asia looking to let their taste buds wander beyond the better-known flavours of Thailand or Malaysia, Laotian cuisine has many lesser-known dishes worthy of cult worship in their own right.
While the staple food of Laos is a steamed sticky rice eaten by hand, its capital, Vientiane, retains some distinctly French influences from the country's colonial past. This means you can easily buy a baguette off the street. Laotian cuisine has many unique dishes worth seeking out; sometimes called bamboo soup, kaeng naw mai is a tasty green stew made with bamboo shoots ideal for a light meal. While larb (a delicious mix of marinated fish or meat with herbs, spices and greens) may be known by foodies around the world as a delicious salad, the Laotian variety sees meat prepared raw like a ceviche, and is a must-try in the country. And for those stronger-stomached visitors, why not start off your meal with something truly unique like ping hua ped, a grilled, marinated duck head. Yum.
The giving of alms
Buddhism is ever present in daily life in Laos where local monks subscribe to the Theravada tradition, which focuses on Four Noble Truths: those being that suffering is universal, the cause of suffering is attachment, suffering can cease and there is a way to end suffering. To properly appreciate the significance of Buddhism to the Laotian people, travellers should consider partaking in the giving of alms in Luang Prabang if they have the opportunity.
The ancient practice of rising at dawn to donate food to the orange-robed monks of Luang Prabang, known as the giving of alms, is both spiritually enriching and helps sustain local monks who are only allowed to eat food that has been donated to them before midday.
Where the best markets of the day, aren't in the day
The song of summer cicadas mixes with the chatter of polite bartering in the air of the early evening as a child sleeps on a mat by his mother's stall. She sells colourful dresses to the slow-moving traffic of people who stop, look and consider their way through the market. From the Vangthong Evening Market in Vientiane where travellers can sample any variety of skewered meat cooked over hot coals; to the Luang Prabang Night Market full of hill-tribe traders selling ceramics, bamboo-carved toys and apparels, Laos is home to some of the most vibrant night markets in Asia. Be prepared to politely negotiate as vendors will often quote higher prices for tourists, but it will all be worth it when you're delicately packing (or quickly stuffing) your newly acquired handicraft into your backpack at the end of the night.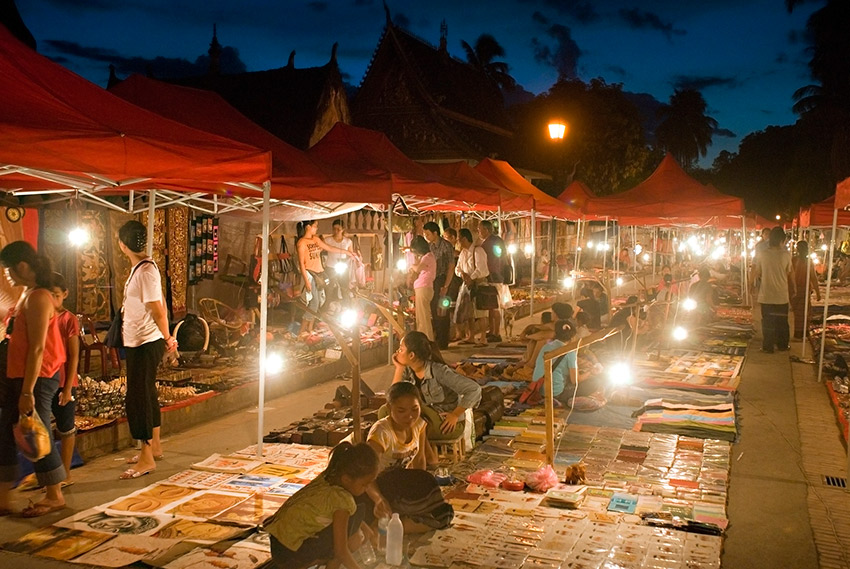 Live like a local on the banks of the mighty Mekong
The Mekong River has long served as an important thoroughfare of trade and transportation for many of Southeast Asia's major towns and cities. Far from merely being an aquatic superhighway, though, the river is all important to the many local Laotian villagers who fish, farm and live along the its shores.
To experience life as a local on the Mekong River, travellers should seek out a village homestay where they will be treated to authentic local hospitality and cuisine. A Laotian homestay offers the perfect opportunity to sample local rural life and partake in daily activities like feeding animals and preparing meals.
Caving in Vang Vieng
Limestone mountains tower over the town of Vang Vieng casting long shadows in the late afternoon sunlight, which provides not only the perfect backdrop for a well-travelled social media addict's next online profile picture, but also real thrills for those who'd like to experience Laos underground. The local mountains are riddled with easily explored caves, although it is recommended that a guide, or at least a working flashlight, be arranged prior to delving into the darkness.
Getting There
Encompassing a wide range of departure dates and activities that cater to different tastes, G Adventures has a number of unforgettable tours that take in the best of Laos. Check out our small group trips here.