"Are these intestines?" I ask quizzically, pointing to the squiggly brown skewers bubbling in a murky white broth. The street vendor raises her eyebrows and giggles like a school girl.
No, it's odeng, or steamed fish cake: chewy on the outside –– soft and flavourful on the inside –– punctuated by the sweetness of the broth. It's so unfathomably good, I can barely stop at two.
In the chaotic Namdaemun Market, long lanes of electronic stores intersect with traditional medicinal halls and second-hand clothing stands. Colourful neon light illuminates the chaos. Lining the narrow alleys are row upon row of food stalls: raw red meat glowing under the bright lights, live seafood wriggling with vigour as their heady smells seep into the air.
I am here in Seoul to immerse my palate in the much-talked-about Korean culinary scene. Signature dishes like beef bulgogi, rice dish bibimbap, and the country's staple kimchi (preserved cabbage), are all making a name for themselves abroad –– it's about time I pay homage to their hometown.
Eating like a local
For the uninitiated, Seoul is a sensory overload: its gastronomy, culture, and architecture evoke expressions of unbeatable magnitude. The most colourful street food scene, the oldest temples, and a racy red-light district –– it's all here in Seoul. As the epicentre of the country, it truly packs it all in.
An old Korean saying goes, "Even if you have to crawl on your knees, get yourself to Seoul!"
Food, especially, is a serious affair here: bad food an insult, good food a blessing, and the best way to see locals in their own skin is to follow them directly to the dining table.
To begin my culinary education, my local friend, Juno Kim, says there's no better place than Namdaemun.
This is after all South Korea's biggest and oldest market: hundreds of food stalls sprawl across a jumble of interweaving alleyways and shops. By day, the hive of activity is centred around thousands of clothes shops, souvenir stores, and fashion outlets. When night falls, the open-air market takes on a life of its own.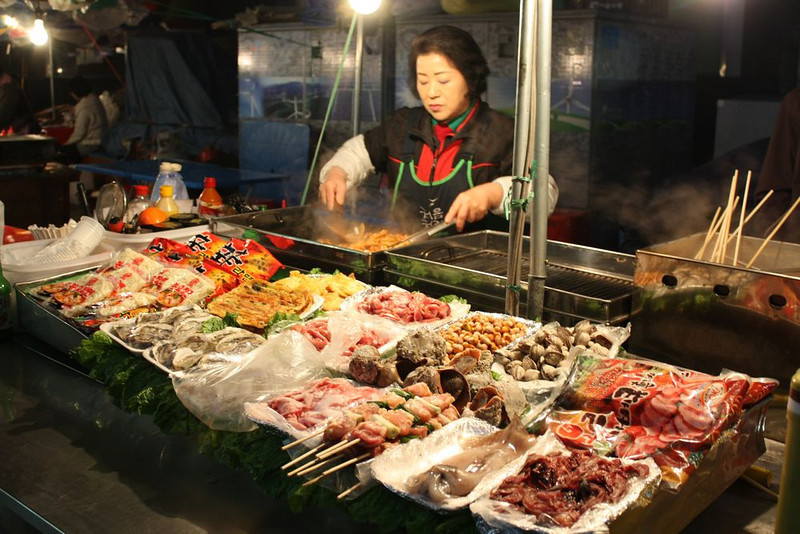 Juno leads me into the labyrinth, navigating the maelstrom of push carts, blinding lights, and blazing smoke to hunt down the best grub. Rows of grills blind us with a mishmash of colours: stacks of raw oysters and larger-than-life clams are piled sky high, alongside bright vermilion marinated meat skewers. Kimchi stews simmer slowly in massive clay jars, while crispy, crusted omelettes sizzle on the grills.
Weaving our way through the market, we come across tanks of baby octopuses swimming wildly in seawater, their tentacles flaring in all directions. Juno tells me, these octopuses are eaten alive –– their slithering, struggling, suction-cupped strands often the biggest attraction.
What used to be a popular after-hour delicacy for Korean men is now highly sought after by curious tourists.
"Anyong haseyo! Hello! Try our sannakji!"
A lady vendor pulls out a few octopuses with her bare hands to show us how fresh they are. We shake our heads "no" in unison.
A visual feast
Stomachs rumbling, we take a seat at Juno's favourite stall. A pungent whiff of spice permeates the air –– this should be good. I order several raw oysters to start our meal –– the vendor tells me it's fresh from the sea, delivered to their store that very evening.
Drenched in a thick black pepper paste, the oyster slips smoothly down my throat, leaving a hint of seasoning and sea water freshness along the way.
We watch the chef at work, his kitchen sprawled out in front of us. Chicken slices, marinated with kimchi sauce, are fried in a giant wok, smothered with a concoction of soy sauce, chili and pepper, and then sprinkled with sesame.
He skillfully turns up the fire, throws in a bundle of boiled japchae (cellophane noodles) and stir-fries them into an aromatic mound of golden noodles studded with the now orange-and-green meat.
Within minutes, plates of flaming sesame chicken, steamy beef bulgogi, and noodles are served. I watch Juno expertly wrap a small portion of the noodles in mint leaves and then gulp it all down in one mouthful. When I do the same, thousands of contrasting flavours explode in my mouth: from the sweetness of the beef accentuated by the kimchi's spicy zing to tangy bursts of lime.
We flush them all down with a bottle of soju, Korea's firewater that contains an outrageous alcohol content of 30 percent. Clinking glasses with Juno, we make a toast to friendship and food –– two fundamental elements of Korean culture.
The new Seoul
The next evening, I'm ready to plunge deeper into Seoul's culinary scene with another group of Korean friends. Led by a local art curator named Sunmin, we've gathered in the hip and funky district of Hongdae for a taste of modern Seoul.
It's a different world here. The streets are lined with stylish boutiques, Western-style bistros, karaoke lounges, and reggae bars; but one thing remains the same: interspersed between them are neon-lit pushcarts –– each packed to the brim with appetizing street grub.
Like how any other local starts their night, we hop from one food stand to another, picking out the most vibrant snacks that catch our eye. Spread across each stand is a visual feast: sushi rolled in crisp green seaweed; yellow balls of deep-fried dough; and flat, orange omelettes.
I order the tteokbokki, small rice sticks swimming in a sea of blood-red piquant sauce; almost every stall has this on display. I can easily see why it's won the hearts of the South Koreans. The rubbery texture of the rice sticks coupled with a flavourful gravy makes it a filling and tasty bite.
At midnight, Sunmin decides it's time to try her favourite Korean fare. "No one leaves Korea without trying Korean barbecue," she says. We sit outdoors along one of the dark, narrow alleys of Hongdae and fire up a tabletop grill.
Along with plates of raw beef, pork ribs, and liver, we're served a series of complimentary side dishes, a common culinary practice in South Korea that typically includes red kimchi and dried anchovies. Tossing them on the grill net over a roaring fire, we cook our meat to a golden brown perfection, and then wolf them down with glass noodles.
By the end of the night, I've tasted and seen much more of the city than I could have ever expected, but Sunmin says I've yet to have the most traditional culinary experience in Seoul. She places a bowl of raw liver in front of me –– as if challenging me to one final task that will complete my culinary education in Seoul.
"You have to eat the raw liver –– it's a tradition we've had for centuries." I take a look at the bleeding liver, my appetite turning into slight nausea. Eager to keep up my reputation as an intrepid foodie, I throw down the liver in one gulp, feeling its tongue-like texture through my teeth and tasting the blood along the way as it slithers down my throat.
While this rite of passage isn't quite what I'd expected, it's definitely earned me a ticket into the culinary soul of Seoul. For that, even a raw liver wouldn't stand in my way.
Top 5 Foods to Try in Seoul
Bibimbapp. If Korea were a dish, it would be bibimbapp. Fragrant white rice topped with mounds of coloured pickles, beef, a dollop of thick pepper paste, and a fried egg –– all mixed together to form a tasty jumble.
Sundae. One of the most popular street foods, Sundae is basically pig intestines stuffed with cellophane noodles, vegetables, meat and lungs with liver on the side. Not for the faint-hearted.
Samgyetang. The chicken ginseng soup is one of the most popular options for both nutritional value and savoury taste. Pair it with cold side dishes like pickles and anchovies for a classic Korean meal.
Kimchi jiggae. Love spicy foods? Then this liquid lava of spicy red cabbage stew will be right up your alley. Simmered with tofu, cellophane noodles, pork, and vegetables, the stew is best enjoyed on a cold winter night.
Naengmyeon. A summer classic, naengmyeon is a cold dish of buckwheat noodles served in a tangy broth, topped with radish, cucumber, and egg. It's a refreshing side dish to cleanse the palate after a sizzling barbecue session.
Getting There
G Adventures runs The Best of South Korea over a number of departure dates. We're thrilled at the prospect of showing you this big blue planet of ours — check out our small group trips here.